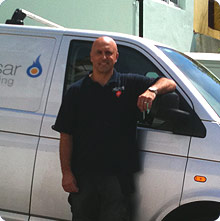 Testimonials
Minor plumbing issues
The issues were discussed , quoted and tackled without delay . The work was undertaken with a view of overall cost with respect to parts needed and completed with a good result.
Score:10 - Customer in Hove, 5 September 2011
New boiler
Very happy. Very polite, on time. Communicated well. Good work. Much cheaper that my quote from southern electric. I will use him again.
Score:9.3 - Customer in Brighton, 8 August 2011
Replacement WC flush system
Matt made every effort to ensure that the system was in good working order.
Score:10 - Customer in Brighton, 13 July 2011
Full bathroom and shower room service
Matt was very good at contacting us and was on time for his appointment. He was very good at describing what needed to be done in simple terms and always asked for clearance to do extra work that was needed along the way, for instance he found a leak under the bath once the bath panel was removed, work that clearly needed to be done before the matter got worse. He fully explained why it was needed. He was very quick and quiet and completed the work to a top standard. He was also very smartly dressed in his own uniform and was more than happy to take his shoes off in the house. Thanks to Matt we now have our bathroom and shower room fully functioning. Very highly recommended.
Score: 10 - Customer in Brighton, 13 July 2011
Supply and fit new radiators
Excellent workmanship, clean and tidy - very polite.
Score: 10 - Customer in Brighton, 12 July 2011
Fitted boiler
Very good
Score: 10 - Customer in , 5 July 2011
Fitting of new central heating boiler
Very efficient, polite and turned up when arranged. Informative and professional.
Score: 8.8 - Customer in Brighton, 26 June 2011
Cooker connection
Efficient, good price, can trust this trader.
Score: 9.8 - Customer in Hove, 24 June 2011
Re-instated Gas Supply
Matt's help and honesty saved us a lot of money. We called him to quote on pipe work. He checked drop and found out that no pipe work would be necessary after all. He was very friendly and showed concern. We would recommend him.
Score: 9.5 - Customer in Hove, 16 June 2011